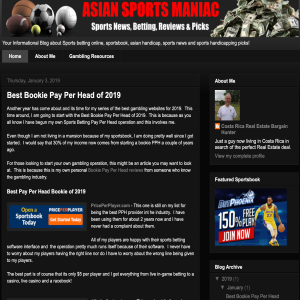 Asian Sports Maniac
Asian Sports Maniac is an American sports handicapper who has over a decade's worth of experience in gambling and sports betting. His skills were honed by staying and practicing in Las Vegas, Nevada.
He continues to share his expertise in the gambling industry through his news site, where he shares the lates in gambling and sports betting news. He also posts sports betting picks on popular games, as well as guides to help people when betting on sports.
Now, he writes more of as a hobby and as a calling to help teach those who are new to the business, but he also enjoys traveling, dabbling in real estate here and there, with Costa Rica as his home base for now.
Contact Information
Las Vegas, Clark County, Nevada, United States of America