In our latest gambling reviews feature, we have one of the most requested pay per head providers, Easy Pay Per Head. EasyPayPerHead.com is one of the fastest-rising pay per head software providers today. They have been live for less than a decade, but they are able to compete with some of the biggest names in the PPH industry. According to their site, they have been working since 2016 to bring the best bookie software to users. The team behind Easy Pay Per Head have around 40 years of combined experience in sports betting, sportsbook management, and software development. We will be taking a look at the Easy Pay Per Head site and software to see what the hype is about in our EasyPayPerHead.com Bookie Pay Per Head Review.
About EasyPayPerHead.com
Easy Pay Per Head started out as an exclusive, by-invitation only pay per head provider. This was extended to known bookies in the industry as the team behind Easy Pay Per Head wanted to improve on the more common pay per head features. They worked with bookies to see what improvements and additions can be made. In addition, they took the time to improve the user experience to ensure the ease of use of their bookie site.
Basically, they wanted to make sure that when they go public, they can give the best sportsbook pay per head software service at a good price point. We will check if they are able to meet the standards of discerning bookies.
EasyPayPerHead.com Info
Inception: 2021
Price: $5 per head or less
Location: Costa Rica
Gambling Platform: DGS
Live Chat: Yes
email: brian@easypayperhead.com
Website: EasyPayPerHead.com
EasyPayPerHead.com Features
Promotion: 2 Week, No Deposit Free Trial
Telephone Betting: Yes
Internet Betting: Yes
Sports Wagering: Yes
Casino: Yes
Live Dealer: Yes
Live Betting: Yes
Private Website: Yes
EasyPayPerHead.com Bookie Pay Per Head Review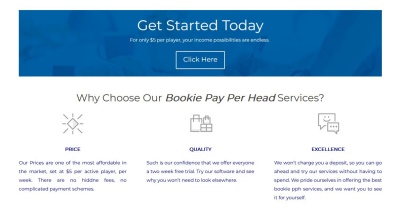 When you open a sportsbook, you will want to be able to do so easily, and at a good price point. It does not have to be the cheapest option in the market. But it should give you great value for money. Easy Pay Per Head requires a very quick registration process, and we even got in faster since we did not need to submit payment details. They offer a 2 week trial, but we thought that we need to pay a deposit. However, after sign up, we went straight in to the software. We wanted to clarify this with their customer service via live chat. Agent was quick to reply, and confirms that we truly do not need to pay for anything until we decide to continue using their software after two weeks.
Their name states that they are an Easy pay per head, so we put that to test immediately. Registration was a breeze, so we wanted to see if the same will hold for the actual bookie software. The software has the menu displaying what we need, in a very organized way. Each category in bookie management is there, with sub-features instantly displayed when you explore the menu. We easily found the area where we can add players and set limits. Again, we checked with customer service how we can do this, and the agent gladly explained that we did not need to talk to them, as we can do everything on our own. The agent even asked us if we needed help, which we declined. Doing it on our own was easy, since you just select and click and its all saved immediately.
So far, everything in our trial is going smoothly. Players can wager instantly, and we see the wagers placed immediately. As we continued on, we were very pleased with how easy it is to use their pay per head software, even when there was so much to explore. You can generate reports to analyze your sportsbook data, one feature that we love seeing in pay per head providers.
Our Recommendation
Our EasyPayPerHead.com bookie review was one of the most pleasant reviews we have done. We truly were satisfied with the software, and now understand why users are giving good feedback on the Easy Pay Per Head software. The value for money is great, at $5 per player. If you are new to the industry, this is a good software to use. And if you are experienced, you will enjoy the premium bookie software. There really is no downside to this. Go ahead, and try the software, since you will most likely be staying with them after the two-week trial.
Get a Free Two Week Trial with EasyPayPerHead.com Here!

Easy Pay Per Head
Average rating:
0 reviews