9DollarPerHead.com draws a lot of interest from potential and existing bookies. Our 9DollarPerHead.com pay per head review looked at whether the company's claims of being one of the top PPH providers are valid.
The provider offers a wide range of services at an affordable price of $9 per head. We looked at the bookie pay per head features, software, and services to determine if using the PPH solution is worth your money.
About 9DollarPerHead.com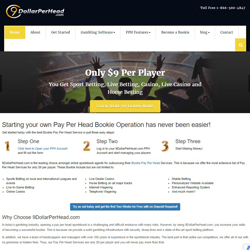 When you check the 9DollarPerHead.com website, you'll find a list of their products and services. Also, navigating through the website is simple. Many sportsbook pay per head reviews said that bookies get great value for their money.
Since 2012, 9DollarPerHead remained competitive by adding features over time. Also, they continue to improve their services year over year. They make sure their clients get what they need.
9DollarPerHead.com Info
Inception: 2012
Price: $9 per head
Location: Costa Rica
Gambling Platform: DGS
Telephone: 1-866-500-4847
Live Chat: Yes
email: cs@9dollarperhead.com
Website: 9dollarperhead.com
9DollarPerHead.com Features
Promotion: 2 Week Free Trial
Telephone Betting: Yes
Internet Betting: Yes
Sports Wagering: Yes
Casino: Yes
Live Dealer: Yes
Live Betting: Yes
Private Website: Yes
9DollarPerHead.com Pay Per Head Review
It was easy to sign up for an account with 9DollarPerHead.com. You can create an account within several seconds. Also, you can launch the sportsbook right away. The agent dashboard is user-friendly. You can find the feature you need without the need for a tutorial. If you have questions, you can contact their call center for answers.
The player interface is plain. However, it is easy to use. As a result, players can find the sporting event they want to wager on.
Our Recommendation
At $9 per head, 9DollarPerHead.com is a medium to high in the price range. However, most gambling reviews agree that its services are excellent. Thus, they remain competitive despite competing against providers offering their services at $5 per player.
Sign up with 9DollarPerHead.com today!